The "Triangulaire de Cransac"
Joëlle Tuerlinckx, a sculptor, was commissioned by Cransac to produce a work connected to the desire to highlight the town's industrial history while honouring the memory of those people who contributed to it, to consider the renewal brought about by the town's spa treatment activities, and to adopt an approach prioritising the themes of preservation and legacy.
The artist noticed the lack of visible traces of the mining period – the majority of mining-related buildings had been flattened but its mining past was everywhere in the town – in the stories, people's experience, "in the air", so to speak. She then developed the idea of a "museum of memory" spanning the whole town. As in any conventional museum, there are collections and archives...  but here they consist of the residents, their voices, sounds of the town, the trees, and the buildings. 
The aim is not to create something new so as to reproduce something that no longer exists, but instead to reveal what still exists, and which is now conveying that memory. It is concerned with making living memories visible.
The artist's work, entitled "La Triangulaire  de Cransac 'Musée de la Mémoire – Propriété  Universelle ®'", combines a sculpture – the 'Monument-Mémoire' – with two 'Showcases' that present the archives compiled at the preparatory phase as well as upon completion of the work.
Contact :
Tél : 05 65 63 06 80 (office de tourisme)
Email : culturecransac@orange.fr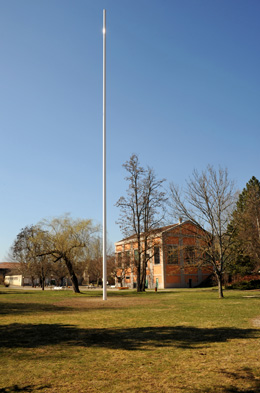 The 'Monument-Mémoire'/'Memory Monument' (musée de la mémoire - propriété universelle®/museum of memory - universal property®)
Like a pin stuck into a map, this monumental sculpture, 34 metres high, which is one tenth of the depth of shaft number one (the main coal mining shaft), marks what the artist calls Cransac's "epic centre", i.e. the former pithead, now the Parc Thermal.
The 'Vitrine Contemporaine'/'Contemporary Showcase' (musée de la mémoire - propriété universelle®/museum of memory - universal property®)
Installed in the former stables adjacent to the current town hall, this 'Showcase' presents all the archives – sound recordings in particular – collected by the artist during her stay in Cransac. This is also a place for contemplating the town – from inside the building, Joëlle Tuerlinckx invites visitors to view Cransac like a picture postcard landscape.
The 'Vitrine Historique/'Historical Showcase' (musée de la mémoire - propriété universelle®/museum of memory - universal property®)
Lying at the heart of the Museum of Cransac Memories, this space houses the other archives connected to the work which, here, interconnect with those of the Friends of Cransac.
'.