Sports and outdoor activities
Take advantage of the open air for a more active holiday, or just for relaxing!
Walking
Many guides for walking tours are available at the Tourist Office.
Feel free to join the walking club (not in July or August) on Thursday afternoons for hikes around Cransac and on Sundays for day-long walks in the surrounding area.
Contact:
M. Bernard Canac
Tel: +33 (0)5 65 63 22 11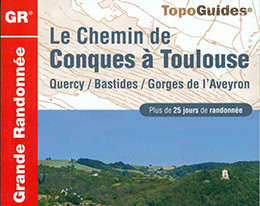 Conques-Toulouse long-distance footpath
Cransac is a stopover on the Conques-Toulouse long-distance footpath on the Santiago de Compostela route.
PILGRIM RATE AT CRANSAC THERMAL BATHS
The thermal baths ("Les Thermes") offer a fixed-price introductory offer, a pass costing €29 (ask for a "Pass Découverte Spa") with a 15-minute hydro-massage bed (you are stretched out on a mattress of hot water with hydrojets massaging your entire body with circular movements), or a 15-minute aromatic, multi-sensory hydro-massage bath (during the treatment – ideal for oxygenation of body tissue and muscle relaxation – you lie in a hydro-massage bath containing water perfumed with beneficial essential oils while images are projected across the ceiling), or a 15-minute Jouvence bed (heating, floating, massaging). The offer includes unrestricted access to the multi-sensory relaxation room and its organic herbal tea dispensing area. If the pass is for morning use, you can also have unrestricted access free of charge to the vaporarium (in a room like a hammam, thermal waters are sprayed creating an atmosphere conducive to physical and mental relaxation).
Les Thermes bookings on +33 (0)5 65 63 09 83
Tennis
Two courts are available behind the Parc Thermal.
(information on +33 (0)5 65 63 23 04)
Mini-golf
There is a mini-golf course (11 holes) in the Parc Thermal.
Information on +33 (0)5 65 63 48 85
Horse riding
"Le Domaine de la Vaysse" equestrian centre, in the Vaysse forest, offers accompanied riding and trekking by appointment.
Information on +33 (0)5 65 64 67 13
FISHING
Fishing permits can be obtained from Cransac Tourist Office (+33 (0)5 65 63 06 80)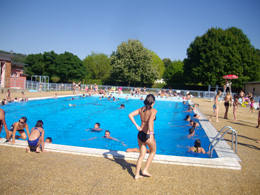 SWIMMING POOL
In Aubin, 3 km from Cransac
Allée Pierre de Coubertin
12110 AUBIN
Tel: +33 (0)5 65 63 03 26 or +33 (0)5 65 63 14 11
Open from late June to late August
Water sports and bathing
Various water sports and similar activities are on offer a few kilometres away on the river Lot – canoeing, kayaking, pedal boats, a pool, water slides, rowing, boat trips, etc.
Website: www. tourisme-valleedulot.fr