Museum of Cransac Memories (Les mémoires de Cransac)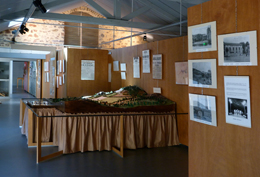 A museum opened in 1996 by the association Friends of Cransac, its renovation in 2013 was the tangible outcome of the coming together of the residents who founded the museum and wanted to modernise it, and the artist Joëlle Tuerlinckx, the creator of "La Triangulaire de Cransac 'Musée de la Mémoire – Propriété  Universelle ®'", which unveiled various aspects of the museum.
The museum's diversity did not lie so much in its content (local history) as in its form – namely, local history as told by residents.  A "handmade" museum, made by teachers, surveyors, pharmacists, miners' sons, and so on; none of them specialists in museology but all driven by the desire to tell "their" story.  This subjective approach was the foundation stone of the project.
Like Cransac's history, the museum has several layers, one lying over the other, without erasing each other, but each adding content and subject matter for visitors to absorb. Three tales of Cransac are on offer, each giving glimpses of the others: a first account of Cransac by its inhabitants, then a history updated by the scientific contribution made during the renovation, and lastly the town's memory as interpreted by the artist Joëlle Tuerlinckx.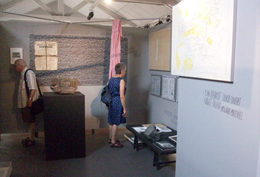 Opening days and times 
 In May, June, July, August, September and October
Monday till Friday: 9.30-12 a.m / 3–6 p.m.
Saturday: 9.30-12 a.m / 1.30–5 p.m.

In February, March, April and  November
Monday till Friday: 10-12 a.m / 3–5 p.m.
Saturday: 10-12 a.m / 2–4 p.m.
Contact
Museum of Cransac Memories
L'Envol - Place Jean Jaurès
12110 Cransac-Les-Thermes
Tel: +33 (0)5 65 63 06 80 (tourist office)
E-mail: culturecransac@orange.fr